Vape Review- SMOK Thallo Kit!
SMOK Thallo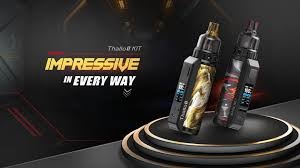 Kit powered by a built-in 3000mah battery holds of 5ml capacity. Provides fast charge VIA a type-c port. The brand-new IQ-XS chip accompanies the 80W max output with the metal matching leather body. It has an instant 0.0001s firing time along with multiple safety protections. This product is compatible with 2 kinds of coils, Mesh 0.16ohm and RPM 2 DC 0.6ohm MTL, respectively focus on creating a plumper taste.
This vape has a nice leather body which gives it a very elegant look. And its compatibility with 2 kinds of coils makes it a very good option for the vapers to buy it. This product is available in both Kitchener and Waterloo VIP Vape stores. Also, for your convenience, we are giving you an option of ordering it at the comfort of your home.
Happy Vaping!